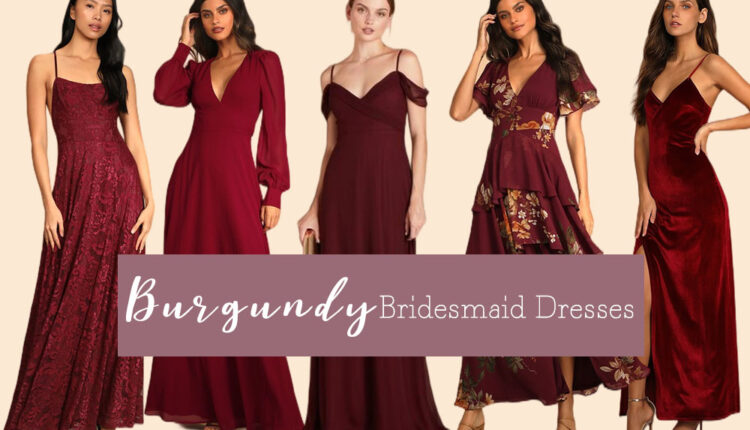 Wedding party dresses come in a wide variety of colors, from light greys and teals to pinks and blues. But there's something about a deep, rich shade that captures our attention, such as a bold wine red shade like burgundy. This color is a stunning choice for an autumn or winter wedding and will make a spectacular statement as your bridal party walks down the aisle. But it also works well for spring and summer weddings, as it is a beautiful shade that would look picturesque against a summer sunset or spring greenery.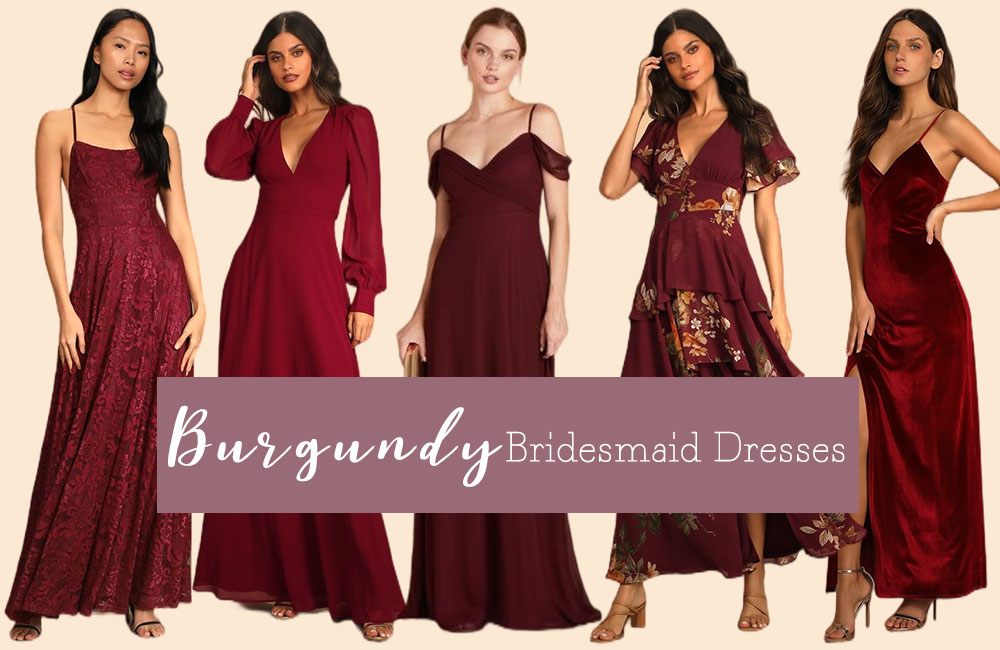 Burgundy is a versatile color that can complement a variety of wedding aesthetics. Whether your wedding is chic and sophisticated or whimsical and playful, there is a burgundy-hued bridesmaid dress that will complement your design and look great on your bridesmaids.
For a more formal wedding, consider a long, elegant dress in a rich burgundy shade. A sleek, satin or velvet fabric would be perfect for a black-tie event. For a rustic or bohemian-inspired wedding, a flowy chiffon dress in a lighter shade of burgundy would complement the theme perfectly.
When it comes to selecting the perfect bridesmaid dress, there are many options to choose from. A-line dresses, maxi dresses, and high-low dresses are all popular choices in burgundy. The key is to find a dress that flatters each bridesmaid's body shape and makes them feel comfortable and confident.
Accessorizing with burgundy is also easy. Bridesmaids can complement the dress with a pair of neutral heels and a clutch, or add a pop of color with a pair of earrings or a statement necklace. Flowers in shades of red, orange, and yellow will also complement the dress perfectly.
Burgundy bridesmaid dresses are perfect for any season, but particularly for fall and winter weddings. The deep red color evokes feelings of warmth and coziness, making it a perfect choice for indoor celebrations. For a spring or summer wedding, it can be paired with lighter colors such as blush or pastel shades to create a contrast.
Burgundy is a rich and beautiful color choice for any wedding. Whether you're planning a formal event or a rustic celebration, burgundy bridesmaids dresses will complement your wedding design perfectly. Ahead, take a look at some of the best burgundy bridesmaid gowns your wedding party will love.