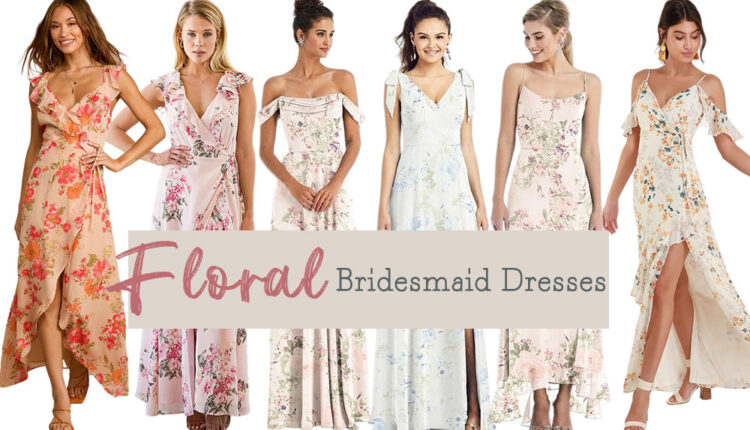 When it comes to choosing bridesmaid dresses, many brides opt for solid colors such as navy, blush, or black. However, there is a trend that has been gaining popularity in recent years: floral bridesmaid dresses. Not only do they add a pop of color and texture to the bridal party, but they also create a whimsical and romantic atmosphere. In this blog post, we will explore the beauty of floral bridesmaid dresses and why they are a perfect choice for any wedding.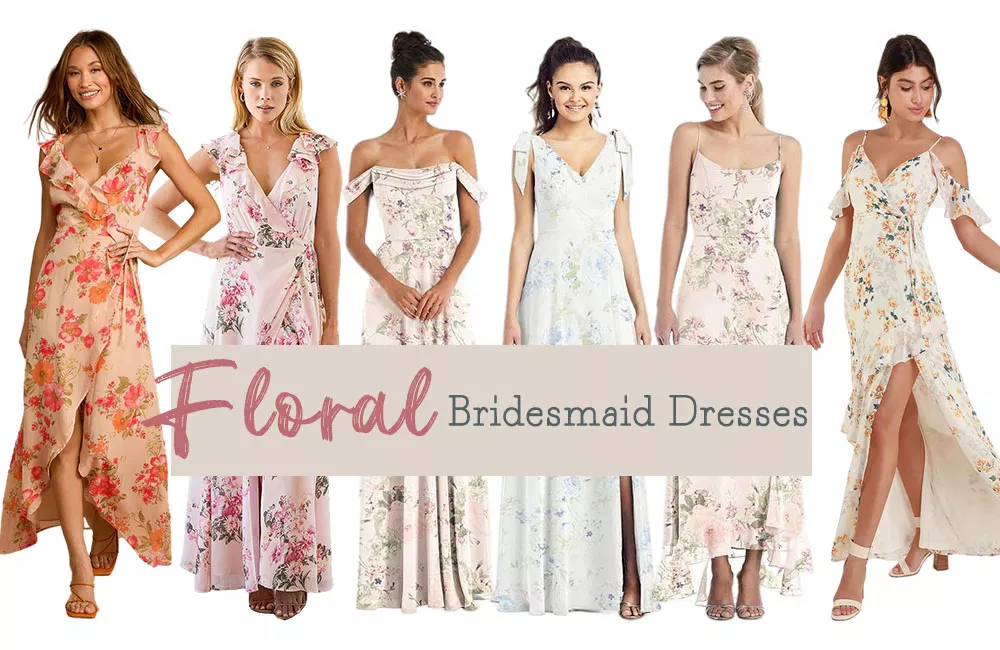 Discover our top picks for floral bridesmaid dresses that come in various designs, color patterns, and price ranges. The best part? All of these dresses are conveniently available for purchase online. Before you start shopping, check out our complete guide on how to buy bridesmaid dresses for some final tips and advice.

The Versatility of Floral Prints
One of the biggest advantages of floral bridesmaid dresses is their versatility. Floral prints come in a wide range of colors, sizes, and styles, making it easy to find a dress that complements the bride's gown and the wedding theme. Whether you prefer soft pastels, bold and bright hues, or dark and moody tones, there is a floral print that will fit the bill. Plus, floral prints can be incorporated into any dress style, from flowy maxi dresses to sleek and modern silhouettes.
The Romantic and Whimsical Vibe
Floral bridesmaid dresses have a way of creating a romantic and whimsical vibe that is perfect for weddings. The delicate and feminine patterns evoke the beauty of nature and add a touch of enchantment to the bridal party. Whether the wedding is held in a garden, a vineyard, or a ballroom, floral bridesmaid dresses will add a touch of magic to the atmosphere.
The Complementary Effect
Another advantage of floral bridesmaid dresses is their ability to complement the bride's gown. By choosing a floral print that incorporates the colors of the bride's dress, the bridesmaids will look cohesive and coordinated without stealing the spotlight. Plus, floral prints are a great way to tie in the wedding colors and create a cohesive color palette.
The Flattering Effect
Floral prints have a way of flattering all body types and skin tones. The intricate patterns distract the eye from any problem areas and create a slimming effect. Plus, the variety of colors in the print can complement different skin tones and make everyone look radiant and glowing. Whether your bridesmaids are tall, short, curvy, or thin, floral bridesmaid dresses will make them feel confident and beautiful.
The Reusability Factor
One of the best things about floral bridesmaid dresses is their reusability factor. Unlike solid-colored dresses that can only be worn to formal events, floral prints can be dressed up or down depending on the occasion. After the wedding, your bridesmaids can wear their dresses to summer parties, brunches, and other events. This makes floral bridesmaid dresses a practical and cost-effective choice.
The Final Thoughts
In conclusion, floral bridesmaid dresses are a beautiful and versatile choice for any wedding. They add a touch of romance and whimsy to the bridal party, complement the bride's gown, flatter all body types and skin tones, and can be worn again and again. So, if you want to create a memorable and enchanting wedding, consider floral bridesmaid dresses for your bridal party.