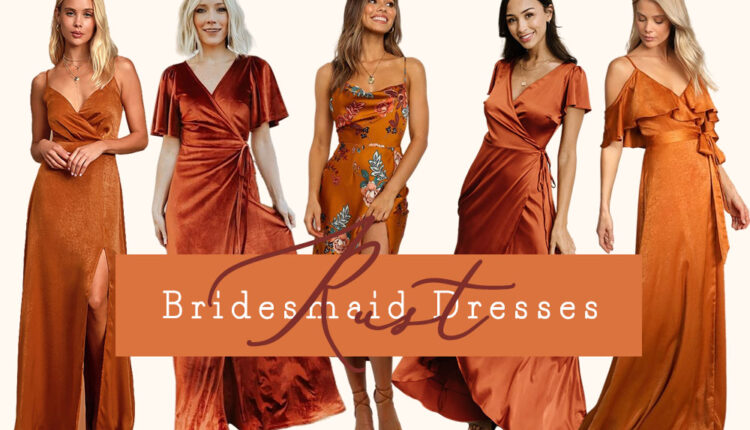 Now that you have secured the details for your upcoming nuptials, it's time to focus on the fun aspects of wedding planning, such as selecting the perfect bridesmaid dresses and coordinating colors. While this can be an exciting part of the process, it can also become overwhelming with all the options available and the opinions of others, whether solicited or not.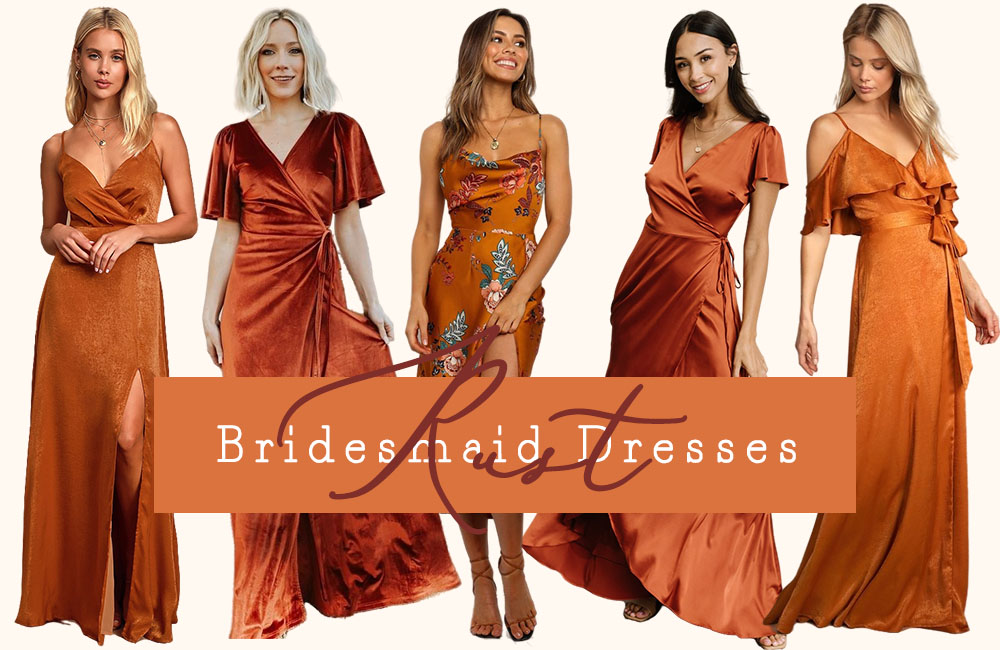 If you're looking for a unique and stylish choice for your wedding party, consider incorporating terracotta or rust colored bridesmaid dresses. These tones, which fall somewhere between brown and burnt orange, are both vibrant and versatile. Additionally, rust is a flattering color on all skin tones as it comes in a variety of undertones, such as pink, brown, orange, and red. Rust and terracotta bridesmaid dresses are particularly popular for autumn weddings, but this beautiful color works well for all seasons. And, because rust bridesmaid dresses come in a variety of styles, shapes, and fabrics, you can find one that is appropriate for any location and dress code, whether it's a beachy-chic affair or a black-tie event. Plus, your bridesmaids will appreciate the affordable price points. According to our research, most options fall between $100 and $200.
If you're intrigued by this idea, keep reading for a list of 50 of the best terracotta and rust colored bridesmaid dresses for every style and budget. Whether you're looking for a classic or modern silhouette, or a luxurious or budget-friendly option, there is something for everyone. With so many options available, you're sure to find the perfect dress for your bridesmaids that will complement your overall wedding aesthetic. So, don't be afraid to think outside the box and consider a rust or terracotta bridesmaid dress for your big day.

FAQ:
What is terracotta color?
Terracotta is a reddish-brown color that is similar to the color of fired clay. It is commonly used in pottery and architecture, and is also used in fashion and interior design. The name "terracotta" comes from the Italian word "terra cotta" which means "baked earth." The color can range from a light pinkish-brown to a deep, rich red-brown depending on the type of clay and the firing temperature used. It is a versatile color that can be paired with a variety of other colors and can be used in both formal and casual settings.
What colors go well with terracotta?
Terracotta is a warm, earthy color that pairs well with a variety of other colors. Some colors that complement terracotta include:
Neutral colors such as white, beige, and gray
Rich, warm colors such as golden yellow, olive green, and deep purple
Cool colors such as blue and green, especially in shades of teal and mint
Other earthy colors like brown, rust and sandy colors
It's also worth experimenting with different shades and variations of these colors to see what works best for your specific project or design.