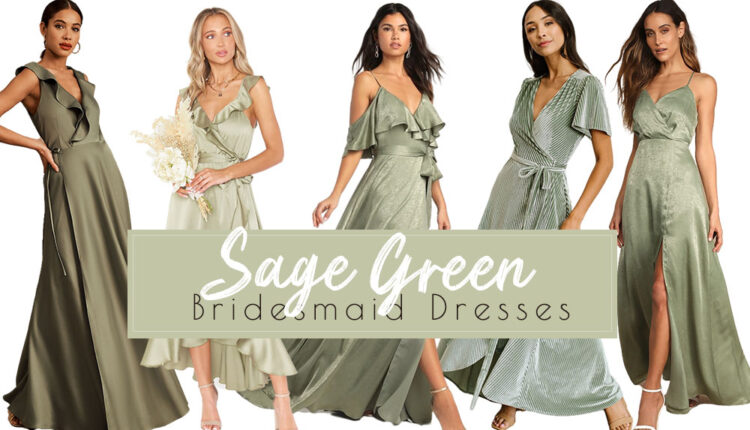 Sage green is a beautiful and sophisticated color that can be a great choice for bridesmaid dresses. It is a muted and earthy shade that pairs well with a variety of wedding palettes, from classic and traditional to modern and bohemian. Whether you're looking for long, flowing dresses or shorter, more fitted styles, there are plenty of sage green bridesmaid dresses to choose from.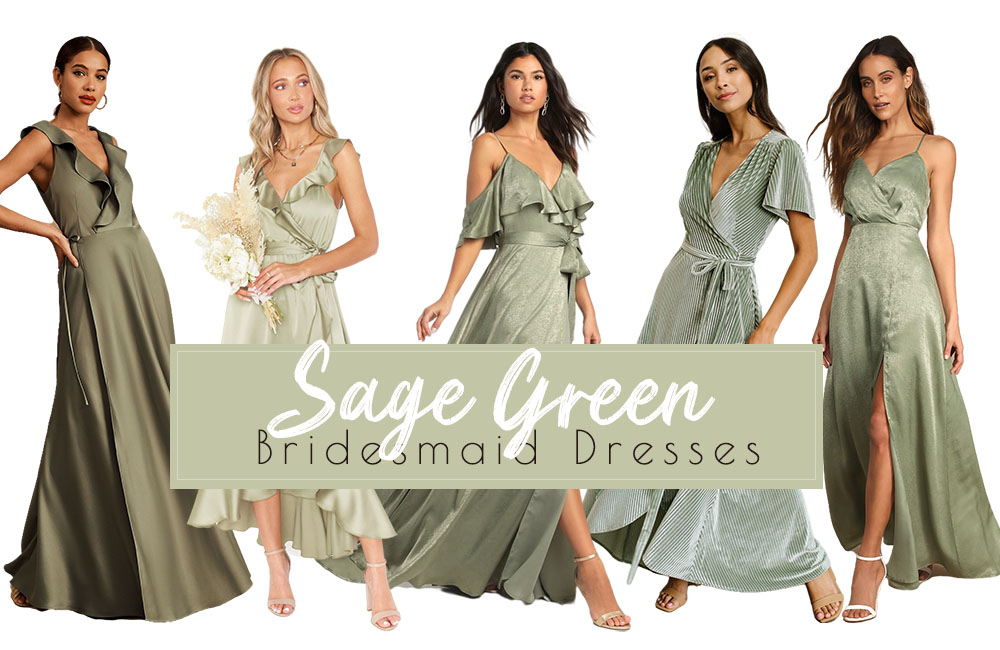 One of the great things about sage green bridesmaid gowns is that they are so versatile. They can be dressed up or down depending on the occasion, making them a great choice for any type of wedding. For a more formal look, you might consider pairing your sage green bridesmaid dresses with elegant accessories like pearl or diamond jewelry. For a more laid-back, bohemian vibe, you might opt for natural elements like wood or jute accents.
Sage green is also a great color for bridesmaid dresses because it is both calming and grounding. It can help to create a relaxed and comfortable atmosphere at your wedding, making it a great choice for bridesmaids who may be feeling anxious or nervous. And because it is a muted and subtle shade, sage green is easy to coordinate with other colors, making it a versatile and stylish choice for your bridal party.
Whether you're looking for long, flowing sage green dresses or shorter, more fitted styles, there are plenty of options to choose from. So if you're considering sage green for your bridal party, be sure to explore the many beautiful and sophisticated options available.

What to Look for in Bridesmaid Dresses
Here are a few things to consider when looking for bridesmaid dresses:
Style:
Think about the overall style and theme of your wedding when selecting bridesmaid dresses. Choose dresses that complement your wedding dress and the overall aesthetic of your big day.
Fit:
Make sure the bridesmaid dresses fit well and are comfortable for your bridal party to wear. Consider the body types of your bridesmaids and choose dresses that flatter their figures.
Color:
Select a color that complements your wedding palette and looks good on your bridal party. If you're having a hard time deciding on a color, consider choosing a neutral shade that will work for all of your bridesmaids.
Fabric:
Choose a fabric that is appropriate for the season and the location of your wedding. For a summer wedding, a lightweight and breathable fabric like chiffon or silk may be a good choice. For a winter wedding, a heavier fabric like velvet or satin may be more appropriate.
Budget:
Consider the budget of your bridal party when selecting bridesmaid dresses. Look for dresses that are affordable and won't break the bank.
Ease of alteration:
Choose dresses that are easy to alter if necessary. This will make it easier to make any necessary adjustments to ensure that the dresses fit perfectly on your bridal party.
FAQ
Are sage green bridesmaid dresses appropriate for all seasons?
Sage green bridal party dresses can be appropriate for all seasons, depending on the fabric and styling. In spring and summer, lightweight fabrics like chiffon work well. For colder seasons, opt for thicker fabrics like crepe or velvet. To add a seasonal touch, pair with a deep burgundy bouquet and gold-toned jewelry for fall and winter.
How to accessorize a sage green bridal party dress?
If you're wondering how to accessorize your sage green bridal party dresses, there are a few options to consider. First and foremost, consider gifting your bridesmaids jewelry or dainty hair accessories to complement their dresses on the wedding day. This can be a thoughtful and personal touch that helps to bring the bridal party's look together.
One of the great things about sage green dresses is that they work well with both silver and gold jewelry. So, whether you prefer a more traditional look or something more modern and edgy, you'll be able to find jewelry that complements your bridal party's dresses.
In addition to traditional jewelry, you might also consider adding a few delicate pearls to your bridal party's ensembles. This can give their outfits a timeless and sophisticated touch that is perfect for any formal occasion.
The key to accessorizing sage green bridal party dresses is to keep it simple and understated. A few well-chosen pieces of jewelry or hair accessories can make all the difference in bringing your bridal party's look together and making them feel polished and put-together on your big day.