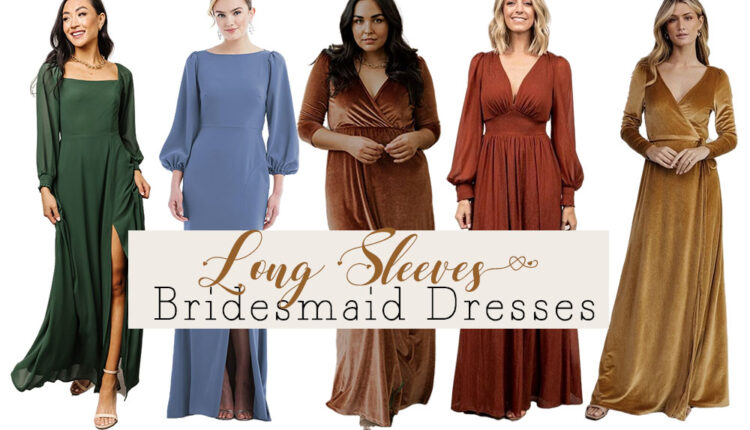 Bridesmaid dresses with sleeves have evolved from the traditional, Pepto Bismol-colored dresses of the 1980s. Today, bridesmaids have more freedom in choosing their own style, and bridal parties no longer have to wear the same dress. Modern bridesmaid dresses come in a variety of silhouettes, including midi and mini lengths, as well as longer styles with unique features such as tiered skirts and cutouts. Finding the perfect balance between stylish and appropriate can be challenging, but a dress with sleeves is a great option for those seeking more coverage.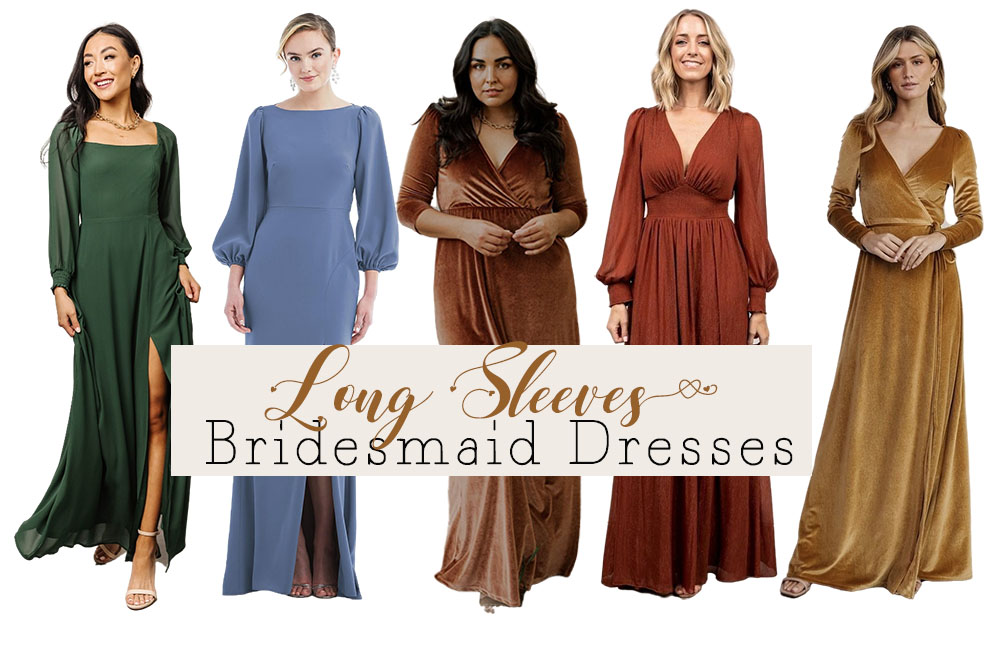 For those who prefer a more traditional look, timeless sleeved silhouettes are available in a variety of styles, including classic cover dresses and sleek, structured column designs. These come in many forms with long and short sleeves, as well as elegant draping cape necklines. Dresses with romantic pleating and ruching or intricate lace detailing are perfect for formal weddings in any season, and materials like satin, velvet, brocade, and metallic-flecked fabrics are perfect for formal or black-tie events during the fall and holiday season.
Spring weddings call for floral bridesmaid dresses and pastel shades, while summer weddings are best suited for brighter colors and bolder designs, particularly for destination weddings.
To help you find the perfect bridesmaid dress with long sleeves for your special day, here are 40 options to shop now.

Long sleeve bridesmaid dresses are a versatile and elegant option for any wedding. Here are a few ways to style them:
Accessorize: Add some sparkle with statement jewelry or a pair of earrings. A necklace or a set of bracelets can also add some glamour to the dress.
Layer up: Layer a shrug or a cardigan over the dress for a cozy and warm look.
Add a belt: A belt can help to cinch in at the waist and create a more defined shape.
Go for a different hemline: Mix and match hemline lengths to create a more interesting look, such as pairing a long sleeve dress with a shorter hemline.
Add a jacket: A denim or leather jacket can add a touch of edge to the dress and perfect for outdoor weddings
Choose the right shoes: Opt for comfortable yet stylish shoes such as pumps, strappy heels, or ankle boots to complete the look.
Hairstyle: A sleek updo or a curly hairstyle can complement a long sleeve bridesmaid dress and add elegance to the overall look.
Makeup: Add some subtle makeup to enhance your natural beauty and add a touch of glamour to your look.
Remember, the most important thing is that you feel comfortable and confident in your dress. With a little bit of styling, you can make a long sleeve bridesmaid dress look truly stunning.