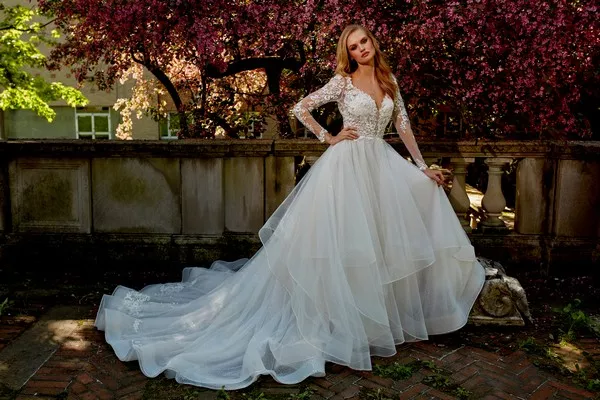 Eve Muscio is a renowned designer who is renowned for her exceptional and unique textile creations. The rich and luxurious textiles used in her designs are sourced from all over the world, making her designs truly one-of-a-kind. Her signature style is defined by dramatic, over-the-top ball gowns that are designed to make every bride feel like a fairytale princess.
Eve Muscio's designs are not only beautiful but also inclusive, catering to brides of all sizes. Her goal is to make every bride feel special and magical on her big day, and her gowns are a reflection of that. Her dedication to making every bride feel special is evident in her designs and the attention to detail that goes into every piece.
The label's newest bridal collection, which debuted at Spring 2019 Bridal Fashion Week, is no exception. The collection is complete with abundant and trendy necklines, such as off-the-shoulder cuts with long sleeves, and is a mix of ball gowns, A-lines, sheaths, and mermaids. The collection is designed to sweep you, your groom, and your guests off your feet, making it a perfect choice for any bride who wants to make a statement on her wedding day.
Eve of Milady wedding dresses are truly a work of art, they are made with luxurious fabrics, detailed with intricate appliques, and perfected with endless trains that are sure to make an impact on any wedding. The brand's newest collection is no exception and it offers a range of styles that cater to all tastes and body types, ensuring that every bride finds the perfect dress for her big day.
An Eve of Milady wedding dress is a true show-stopper, crafted to make any bride look and feel like a fairytale princess. If you're in the market for a statement-making, unique, and luxurious wedding dress, be sure to check out the Eve of Milady collection.