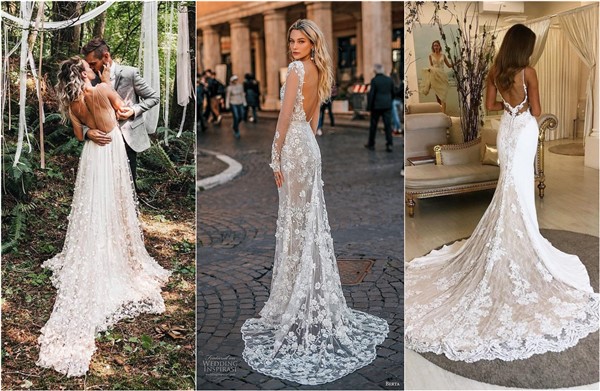 If you're looking to add a touch of sexiness and drama to your wedding dress, consider going for a gown with an open back. An open back adds a unique and eye-catching detail to any wedding dress style, whether it's boho, classic, modern, or glam. Plunging or illusion open backs add just the right amount of allure, and they're also a great alternative if you're not comfortable with a plunging neckline but still want to show some skin.
There are many beautiful options available, including clean crepe sheaths, ethereal A-lines, and lace mermaid-style gowns. Choose the open back wedding dress that speaks to your personal style and make a stunning statement on your big day.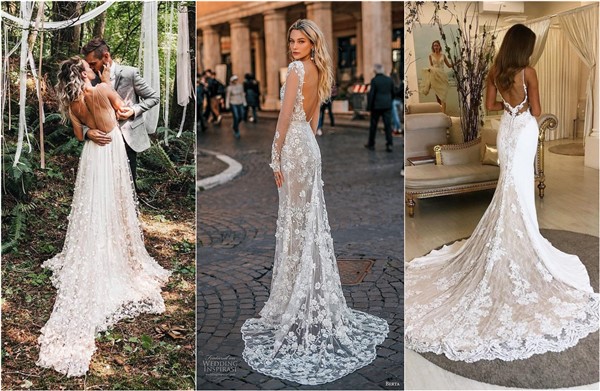 FAQ
Are backless wedding dresses in style?
Backless wedding dresses have been a popular choice for brides for many years and are still a fashionable and stylish option today. The trend of backless dresses has evolved over the years, with various styles and levels of exposure available. From more modest backless dresses with illusion panels or lace detailing to more dramatic dresses with plunging backlines and minimal fabric, there are many options to choose from.
---
What do you wear under an open back wedding dress?
There are a few options for what to wear under an open back wedding dress:
A backless bra: This is a bra that is specifically designed to be worn with backless or low back dresses. It will provide support and lift while still remaining invisible under your dress.
Stick-on bra cups: These are adhesive cups that can be worn under your dress to provide coverage and support. They are a good option if you don't want to wear a bra but still want a bit of coverage.
Nipple covers: If you don't want to wear a bra or stick-on cups, you can opt for nipple covers. These are small adhesive discs that can be worn under your dress to cover your nipples and prevent them from showing through the fabric.
Shapewear: Wearing shapewear under your dress can help smooth out any lumps or bumps and give you a more streamlined silhouette. Just make sure to choose a style that won't show through the fabric of your dress.
Nothing: If you feel comfortable and confident going braless, you can choose to wear nothing under your open back dress. Just make sure that you are comfortable and that your dress stays in place throughout the day.
Vintage Mermaid Lace Wedding Dresses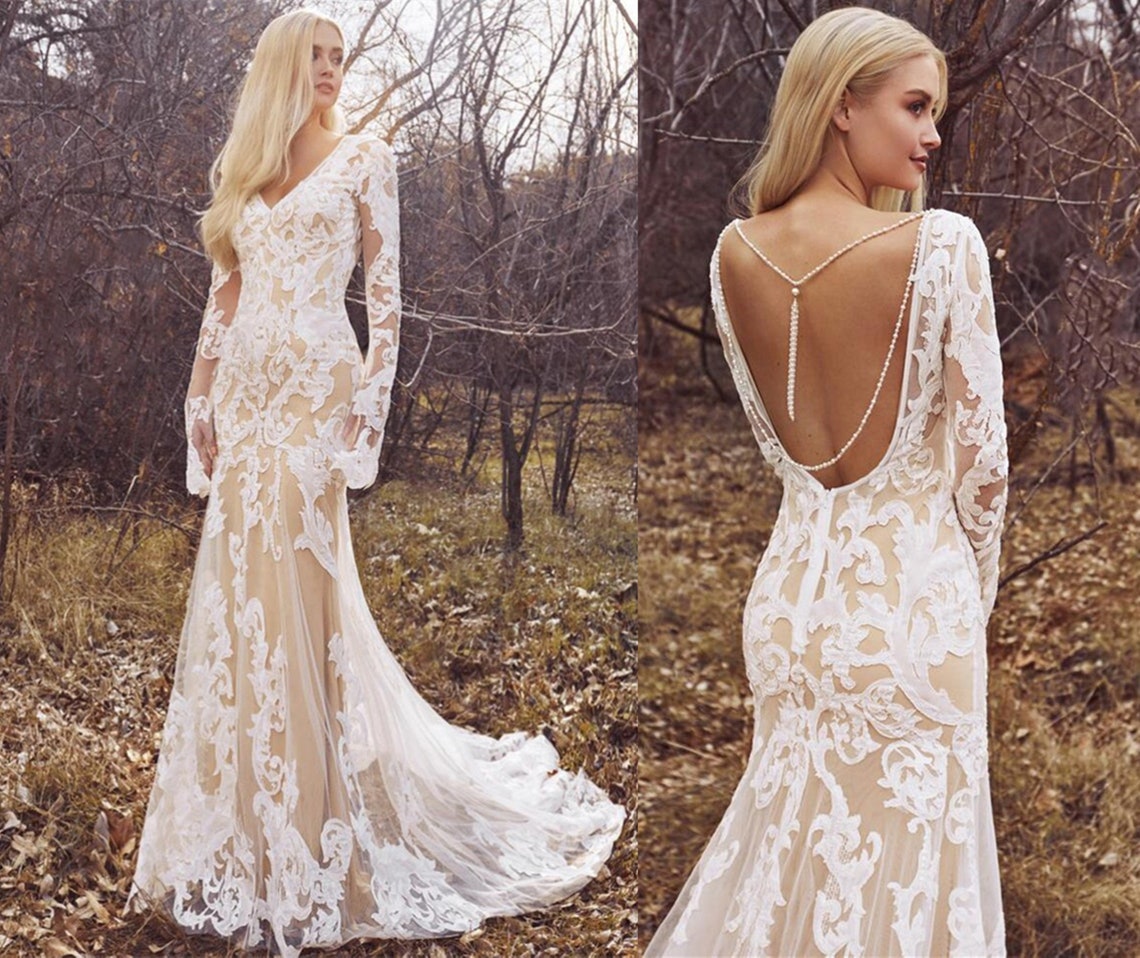 Vintage Mermaid Lace Wedding Dresses for Women, featuring Long Sleeves and a Sweep Train. This Wedding Gown showcases a V Neckline and an Open Back, all Handmade for the perfect Bridal Dress.
---
Royal open back satin wedding dress with long sleeve and boat neckline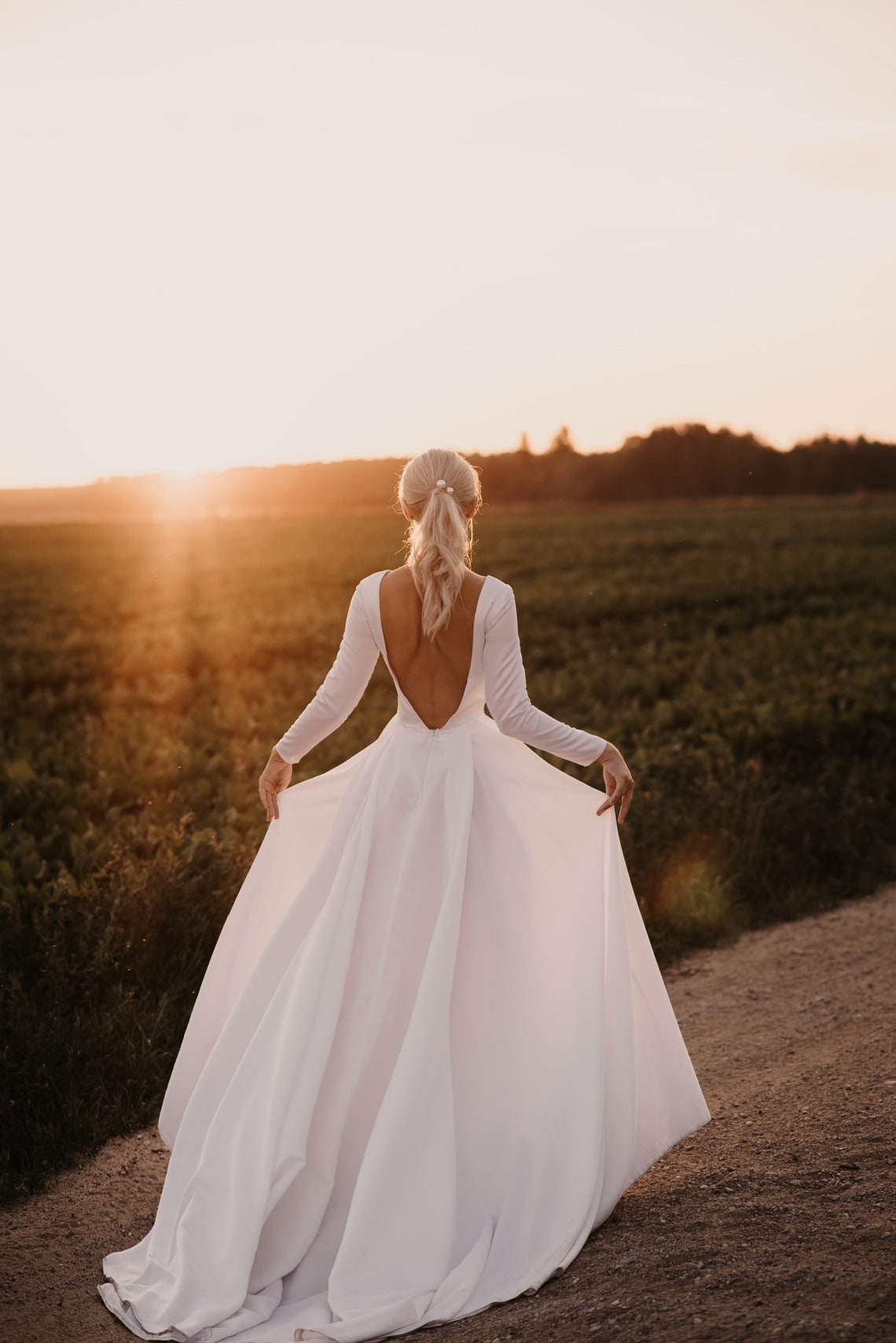 This Royal Satin Wedding Dress features a Boat Neckline, Long Sleeves, and an Open Back. The Long Train adds an extra touch of elegance to this classic and stylish design. The Corset is expertly crafted with sewn-in cups for a comfortable and supportive fit.
This stunning gown is perfect for a garden or seaside wedding celebration, and can be made in a variety of colors, including classic White. Although photographed in Ivory, it can be tailored to your desired color.
---
Lace mermaid open back wedding dress with Long train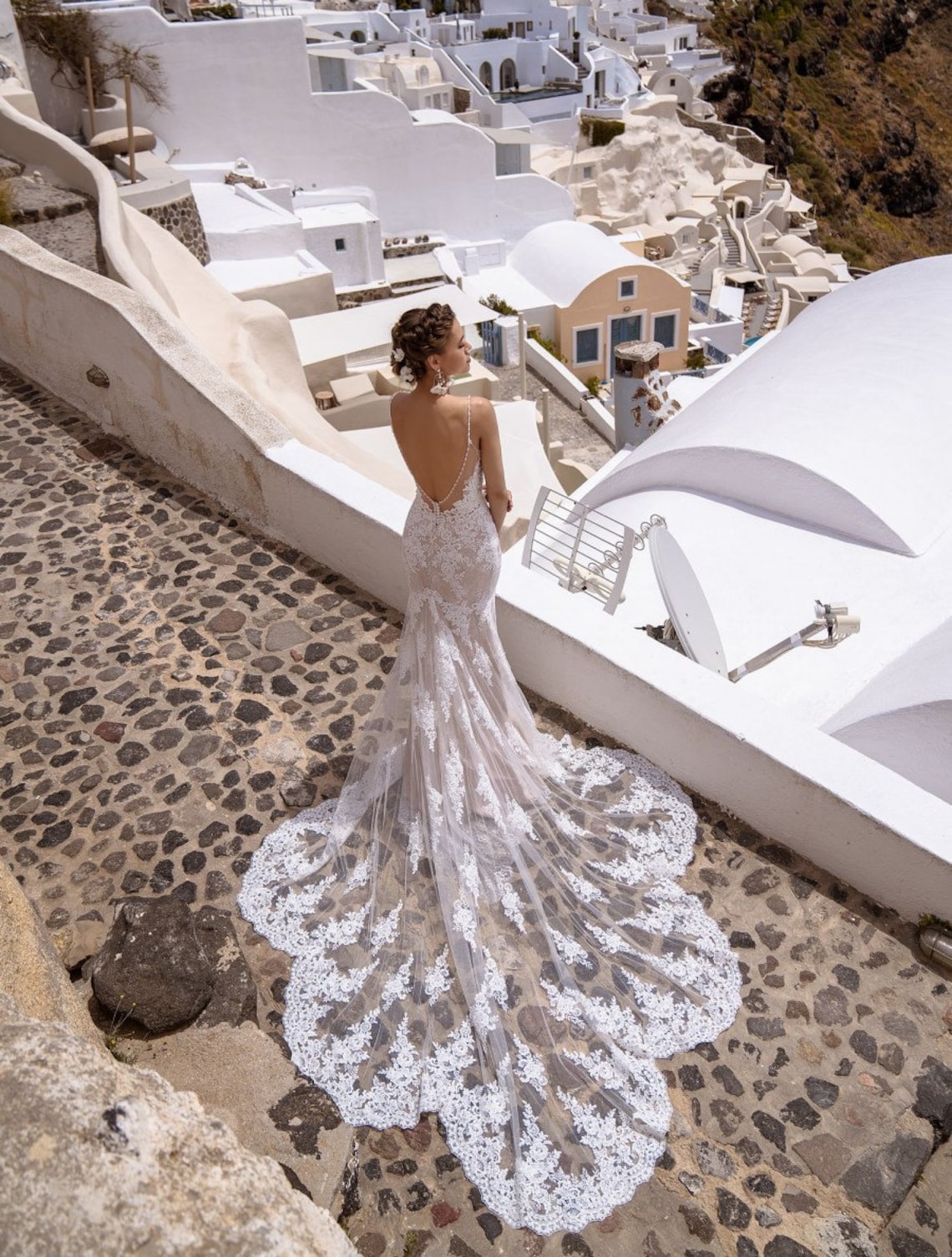 This Lace Mermaid Wedding Dress features a beautiful Long Train and an Open Back, making it perfect for a beach wedding or any outdoor celebration. The Bridal Gown is crafted from delicate Chantilly lace and designed with thin straps for an elegant look.
The corset of the dress is adorned with intricate lace embroidery, complemented by beautiful beading. The back of the dress features a stunning V-neckline, adding a touch of allure to the overall design. The special feature of this dress is the beautiful, figure-hugging train that adds a touch of grace and elegance to the bride's overall look.
---
Boho Open Back Plunging Neckline Bridal Dress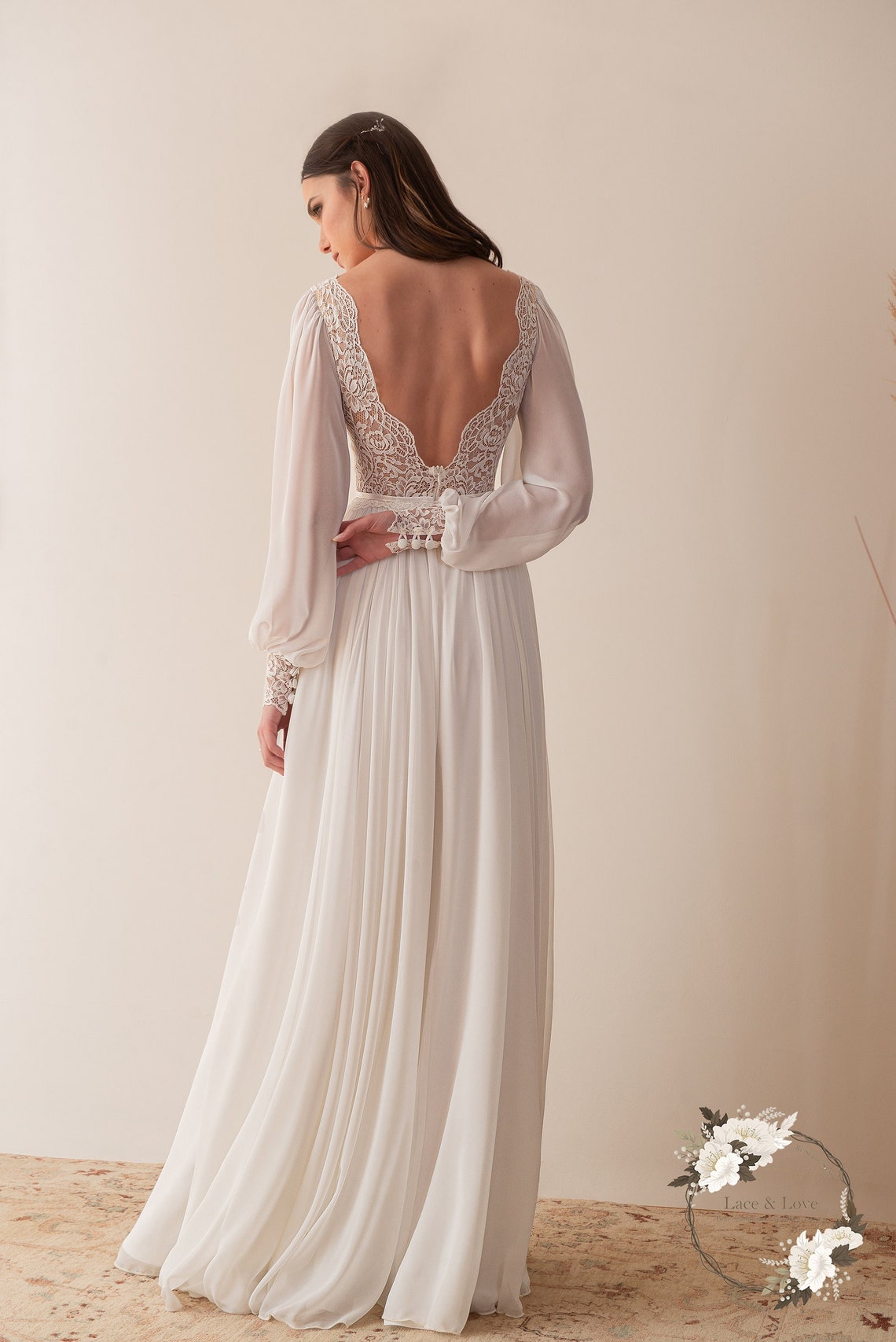 Introducing the Boho Open Back Plunging Neckline Bridal Dress, a stunning and timeless wedding gown crafted from vintage lace and chiffon, complete with delicate chiffon sleeves.
Featuring a classic deep V-neckline that plunges both at the front and the back, this dress also boasts long chiffon sleeves that end in a lace border. The lace top is constructed on an illusion tulle with skin-toned cups, providing both comfort and support.
The ivory chiffon skirt is gathered at the waist, creating a rich and flowing silhouette that is both elegant and flattering. Lined with podange and opaque lycra, this dress also features a high side slit that adds a touch of allure to the overall look. This Boho Bridal Dress is truly a beautiful and classic choice for any bride.
---
Alanah 3D Floral Long Sleeve Bridal Gown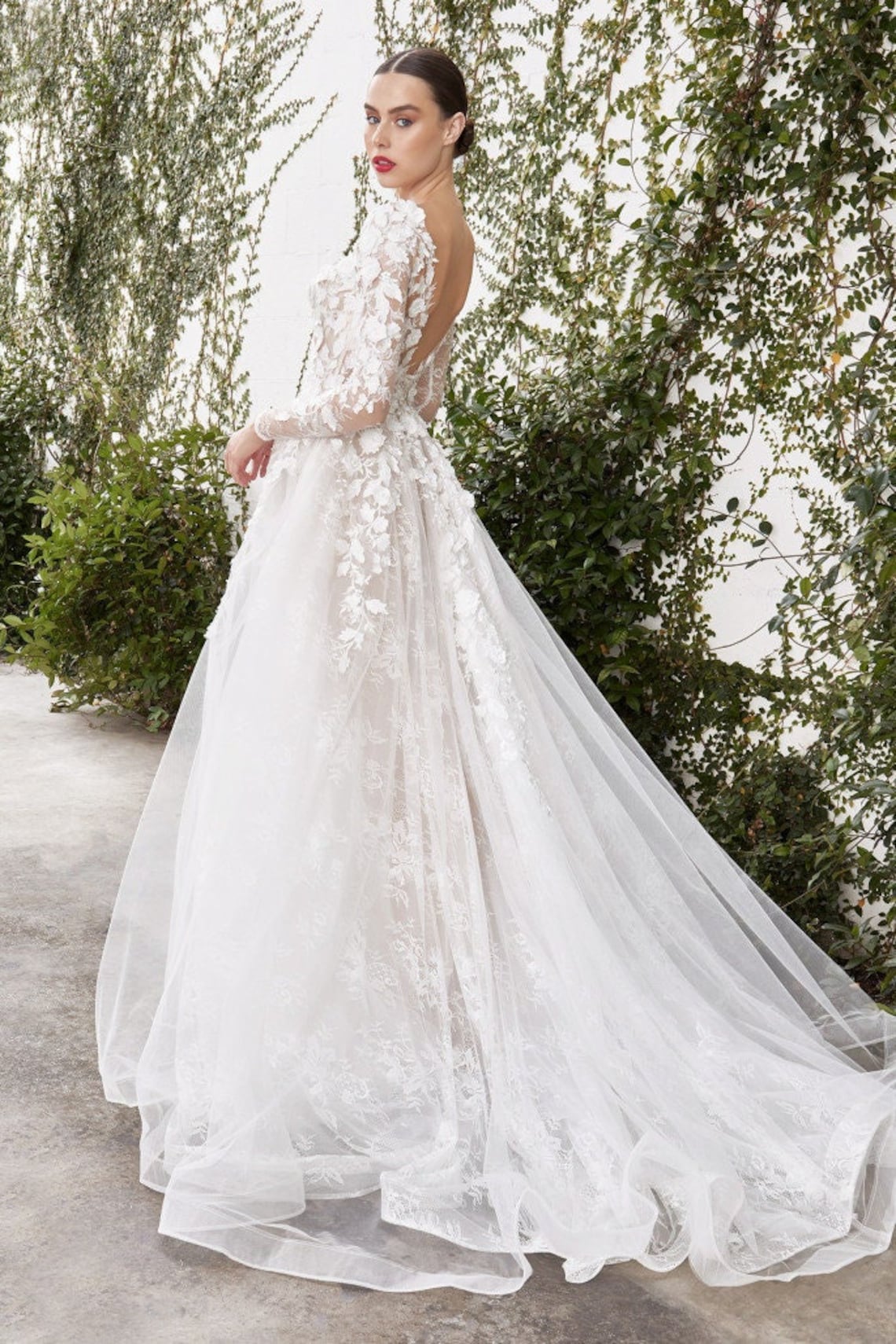 Presenting the Alanah 3D Floral Long Sleeve Bridal Gown, a stunning and feminine wedding dress that is sure to capture your heart. The gown features a layered tulle A-line skirt and an open back, creating a romantic and dreamy look that is perfect for your special day.
Fall in love with the beautiful white florals that adorn the gown, with 3D floral vines cascading along sheer sleeves and a soft A-line silhouette. The classic V-neckline is elegantly edged with flower petals, highlighting the bride's natural beauty and grace.
To add to the sensual nature of this gorgeously crafted gown, the lining is designed in a subtle nude tone, creating a stunning contrast against the white florals. The Alanah Gown is hopelessly romantic and perfect for any bride who wants to feel feminine and beautiful on her wedding day.
---
Chiffon Long Sleeves Bridal Gown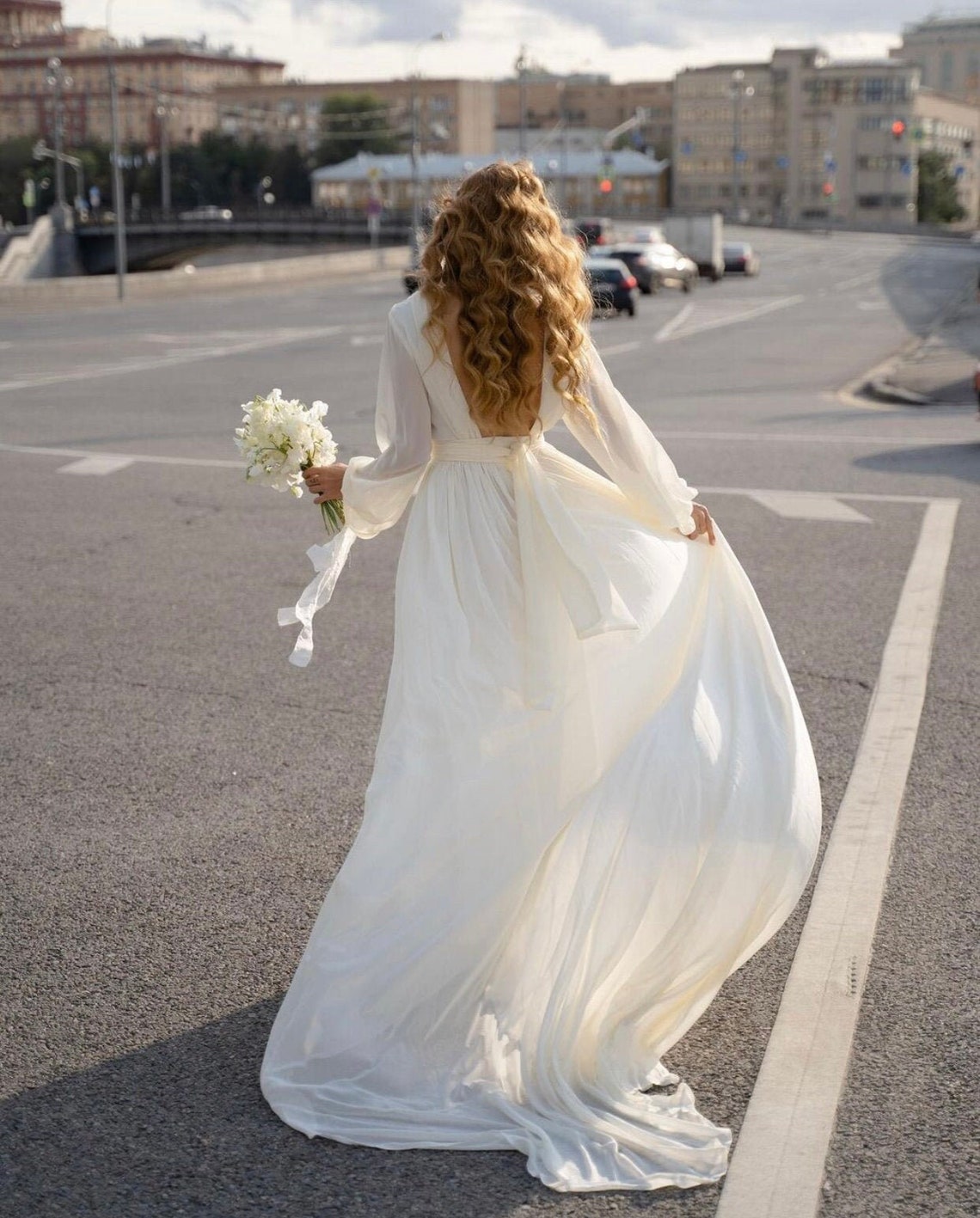 Introducing the Modest Airy Wedding Dress, featuring delicate chiffon, long sleeves, a boat neckline, and an elegant A-line silhouette. The dress has a stunning open back with a deep V-neckline, accentuated with a wide belt at the waist. This ivory dress is perfect for romantic women who love spectacular outfits.
---
Long train wedding dress with Open back
Introducing the Lace Mermaid Wedding Dress in a unique cappuccino shade. The dress features exquisite bead and stone embellishments, a semi-sheer bodice with a halter neckline and epaulettes, an open back with deep cut, and a small train. This sleeveless dress is perfect for any bride who wants to showcase their arms.
---